The Program
This program offers students opportunities to Experience Real Cantonese Culture in Zero Distance. Cantonese, namely,
Yue people
, mainly indicates the people reside around Pearl River Delta who speaks Cantonese. Benefited from the Guyue heritage and nurtured by Han culture from mid-China,
Cantonese culture
grows to be a culture of splendid richness. With the influence of western culture and the once colony economy, as well as the fast paced economic development, Cantonese culture stands out shiny with prosperity in China. Guangzhou, as the central city of the Cantonese culture, has always been the political, economic and cultural hub of Guangdong and south China.
By joining this intensive program, students will learn Chinese language, history and culture, as well as the unique nature of the Cantonese culture, which will widen their cultural understanding of China.
The Location
Guangzhou is the capital city of Guangdong Province in southern mainland China. The city was formerly known internationally as Canton. It is a port on the Pearl River, navigable to the South China Sea. Having been the economic centre of the Pearl River Delta, Guangzhou is the most popular city in the province and the fifth most popular city in China. And, as a gateway to Hong Kong with only 2 hour train, it is also attractive both in tourism and trade. The Chinese International Trade Guangzhou Fair held twice a year is a major event for China. Cantonese food is also famous with history and reputations.
South China University of Technology (SCUT)
South China University of Technology (SCUT) is
one of the top 25 research-intensive leading universities
in China, a major contributor to the knowledge and economic development of South China and nationally recognized for the excellence of its teaching, is operated under the direct leadership of the State Ministry of Education in China. SCUT has two campuses located in Tianhe District and the University Town of Panyu respectively.
Established in 1952, SCUT has developed into a key university offering comprehensive majors in areas of Science, Engineering, Business, Management, Liberal Arts, Law and Bio-Medical Science. SCUT has 29 academic schools, offers 67 bachelor's degrees, 177 master's programs, 75 doctoral degrees and 11 stations for post-doctoral research. SCUT has over 4, 000 faculty staff and total of 60,898 students enrolled at undergraduate, postgraduate and other levels. Over the past 54 years, the university has cultivated over 140,000 talented graduates, so as to be named as "Cradle of Engineers" and "Cradle of Entrepreneurs".
School of International Education (SIE) at SCUT
Established in July 2004, The School of International Education (SIE) is the division for international students studying at SCUT
One of SIE's missions is to provide high value language and culture programs to international students studying abroad. In addition to regular Chinese programs, SIE also deliver
Cantonese, Cultural tour, tour for the seniors
and
Summer/Winter Camp programs
to meet various needs.
SIE has a group of well-qualified staffs. Over 80% of them have overseas degrees. In the 2006 summer, as assigned by the Office of Chinese Language Council International, SIU had operated the HSK Scholarship program for over 50 HSK students from France, Indonesia, Vietnam and Cambodia
Courses
Intensive Chinese Course:
listening, reading speaking and calligraphy
Cultural Courses:
Etiquette, Food Culture, Sports of Ancient & Modern China, Traditional Cantonese Entertainment, Martial Arts & Kungfu Movie, Guangdong Today, and Guangdong Industry.
Course Provider:
SIE, SCUT
Academic Credit
By attending 7 hours of Intensive Chinese courses, the students will earn one credit. And they will earn 2 credits after finishing 14 hours of Cultural courses. None of the courses requires prerequisite.
Activities
SCUT and SIE not only offers courses and but also will organize field trips to Guangzhou and nearby places which represent the typical Cantonese culture.
1) Guangzhou City Tour with night cruise on the Pearl River
Guangzhou is a modern metropolis with a lively and diversified face, filled with exuberance. Tianhe District shows a modern look of the city; and students interested in historic sites cannot miss the Memorial Hall of Dr. Sun Yet Sen and the pedestrian Shang Xia Jiu Road. When evening comes, go enjoy the night scene along the Pearl River on the cruise. It's impressive!

2) Trip to Foshan
Foshan is famous for its Ming temple, martial arts, lion dance and ceramics, etc. With the cultural classes taken in the program, students have gained experience in the above cultures. In Foshan, we expect participants be fond of the culture and have various hands-on experience in making ceramics.
3) Trip to Kaiping
Kaiping is well known for its cluster of watchtowers, influenced by both Chinese and Western architectural styles. US Discovery Channel has made plans to shoot these watchtowers in Kaiping. The Kaiping watchtowers were built by overseas Chinese and represent a combination of Chinese and Western architectural styles. There are currently 1833 towers and they are recognized as being a model of overseas Chinese culture as well as an impressive symbol of Chinese architectural art. The site is now applying to the UN for a World Cultural Heritage site listing.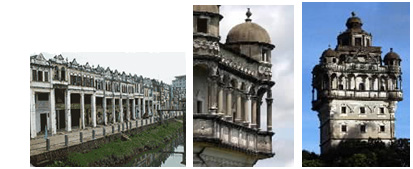 4) Vsit to the Guangzhou Cantonese Opera Troupe
It's definitely a unique and interesting way to explore the everyday training of the troupe, and how do they prepare for an opera show. Teachers will introduce the characteristics of Cantonese opera in class about the acting and acrobatic fighting, different roles with different face patterns, and the stylized movements and gestures, etc. And by visiting the troupe in person, students therefore have a real and close look at this unique culture. Students may have chance to paint and dress themselves the opera look!

5) Excursion to Xi Guan Area
A visit to Xi Guan offers a look into the old Cantonese culture as a good starting point for those looking to glean historical tidbits. The excursion covers: Introduction to the traditional Cantonese-style residence, history and culture of Xi Guan, "shopping" in the antique stores as inspired shoppers, and tasting traditional Cantonese cuisine to maximize the enjoyment.

6) Excursion to the Zhujiang Beer Group
Guangzhou Zhujiang Brewery Group Co., Ltd. (hereafter "the Group") was established in 1985 and is a large state-owned enterprise. It is now the biggest beer making center in the whole world. It has now received over 50,000 visitors so far. By visiting the factory, students may learn about: the history and culture of beer in China as well as the production process of beer.

7) 3-Day
(Optional Post Program Tour )
to Zhuhai, Macau & Hong Kong
Day 1: Lover's Road ~Stone Garden ~The New Yuan Ming Palace ~ Night Show ~ Accommodation in Zhuhai
Day 2: Gong Bei ~ Macau ~ Homing Museum ~ Ruins of St. Paul's ~ Penha Church ~ Macau Tower ~ A-Ma Temple ~ Accommodation in Macau
Day 3: Travel by TurboJet to Hong Kong ~ Victoria Peak ~ Repulse Bay ~ Bauhinia Square ~ Fishing Village of Aberdeen ("Sampan" ) ~ Harbor Cruise
Housing
On-campus housing will be provided. Students live in International Students' Dorm with air conditioner.
Dates and Fees
Fee:
Tuition:
$1,400 for 16 weeks /semester,
Registration fee:$50;
Food (Estimated): $80/week(21meals)in school cafeteria.
Insurance :$50 per year
2 week intensive summer programs including room and board, travels and tuition, 3 credits plus certificate $1,200 per person.
3 days optional trip to Hongkong, Zhuhai and Macau will cost $350 including rooms, guided sightseeing and transportation.
Requirements
Program open to all students and adults 18 years of age and older. Passport and Visa required for entry into China. CSA will send the JW202 (letter of admission) with confirmation documents. Early registration is advised, so you have time to obtain a Visa.
Students staying 3 months or longer in China may be required to take a medical exam and aids test in China. Medical tests done prior to arrival into China will not be accepted. The test needs to be done in China. Each student is also required to pay the small fee for the medical exam cost directly there. Short term students are usually not subject to these tests.
Also, upon applying for a Visa, students attending for 3 months or longer may need to show that they are in good health by providing a completed health report form from the Chinese Consulate. Again, short term students of less than 3 months usually do not need to provide this. Ask the Chinese Consulate for details and to obtain forms.
Visa Assistance
Zierer Visa Service
1-800-843-9151, 1-866-788-1100
Use express mail when using these visa services.
Embassy of China
Registration and Information
Register online. $50 deposit required. Payments can be made by money order, cashiers check, or personal check. We will e-mail you a "Confirmation Notice" with additional information shortly after receiving your online registration form.